Odd Couple
July 6th, 2018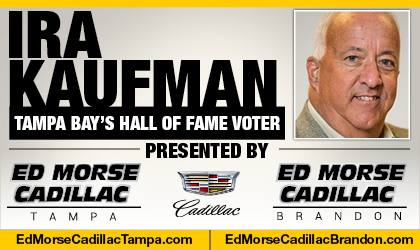 BY IRA KAUFMAN
Jameis Winston faces a difficult challenge regaining the trust of every employee toiling at One Buc Place. He would be wise to start with Dirk Koetter.
It wasn't long ago that Koetter was chosen to succeed Lovie Smith based primarily on his relationship with Tampa Bay's young quarterback.
With Winston taking every snap as a rookie and Koetter serving as offensive coordinator, the Bucs set a franchise record for total offense in 2015. And when Koetter led the Bucs to a 9-7 mark in his first season as an NFL head coach, there was no reason to doubt this was the beginning of a beautiful friendship.
That has all unraveled in the past seven months.
It started last December with an unsubstantiated report by NFL Network's Ian Rapoport, asserting a rift between Koetter and Winston. According to Rapoport, Winston questioned Koetter's play-calling skills and didn't feel he received enough support during his struggles with a shoulder injury.
Who generated this story? I may not have a smoking gun, but I know one thing: it didn't come from Dirk Koetter.
Following a 24-21 home loss to Detroit, both sides quickly denied the validity of the report.
"I know the truth about our relationship," Koetter said. "My big concern is our football team."
Winston also tried to shoot down a story that quickly generated national headlines.
"Obviously, a lot of stuff can come out when we're not doing as expected, but that's false," Winston said. "Coach Koetter coaches his tail off, and he definitely supports me. So whatever anybody else has to say outside of that — that's just water under the bridge, man."
The water level is rising.
When Koetter moved into the head coach's office, Winston hadn't yet taken that fateful Uber ride in Arizona. It was still a few months off, but Koetter didn't find out about it until last fall.
That's a problem in and of itself.
The biggest keys to a healthy coach-quarterback relationship are communication and trust. Before he throws a single pass in training camp, Winston needs to connect with Koetter.
Koetter Should Shoulder Some Blame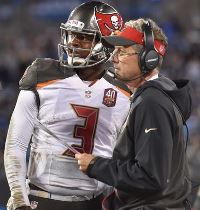 It's been a rough stretch for Tampa Bay's head coach — and he has to take his fair share of the blame for the brutal 2017 season. He calls the plays, he decides on his staff and he is responsible for getting his team ready to play.
The Bucs didn't look ready to play in their first four road games — at Minnesota, Arizona, Buffalo and New Orleans. Koetter's loyalty to Doug Martin was misguided. Chris Baker should not have been starting over Clinton McDonald and red-zone woes are on his plate, too.
But Koetter doesn't deserve these last two body blows involving Winston. He had to be hurt by the suggestion of friction between the two and now he has to seriously wonder if Winston is the right guy going forward.
Wins Take Priority Over Depth Chart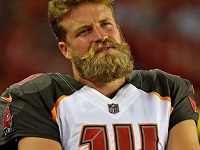 Koetter's focus will soon be getting Ryan Fitzpatrick ready for New Orleans. If Winston felt unsupported last year, wait until camp rolls around and he's getting minimal snaps.
Koetter can't worry about that — and he won't. Winston did this to himself and now it's about giving this football team the best chance to win every week.
And if that means Winston holds a clipboard when he returns from suspension, so be it.
That's what happens when you've got a failure to communicate.