No Distractions From The No. 1 Task
July 2nd, 2018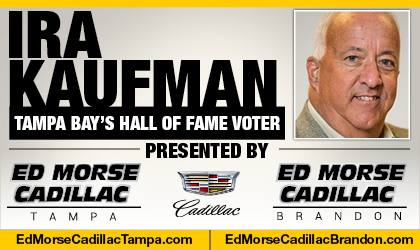 BY IRA KAUFMAN
Let's keep our eye on the ball, people.
This season was always going to be about defense — and that hasn't changed a bit. Fact of life: if Mike Smith's group doesn't improve dramatically, the Bucs are heading to the NFC South cellar for the seventh time in the past eight seasons.
And if that happens, Mr. Smith won't be invited back for 2019. Simple as that.
Jameis Winston's suspension may hang over training camp and the preseason, but the real story remains a franchise that has lost its way, along with its identity.
As Brentson Buckner tells it, Tampa Bay's fan base loves big-time defense. He just got here, but Buckner knows our town.
That was true in 1979, when Lee Roy Selmon led a marauding unit, and it was true in 1999, when Warren Sapp strutted through opposing team's stretches to announce it was going to be a long day. On both occasions, the Bucs boasted the NFL's Defensive Player of the Year.
Buc fans still love defense, but that affection hasn't been reciprocated and Smith knows it.
"It's got to be a hell of a lot better than what we put out there last year," he says. "I've said it many times, the numbers are not anywhere close to what we've to go to do. We've got to be more consistent in everything that we do and it starts in the meeting rooms and building trust with one another across the board. I think that's the most important thing."
While Winston has surely lost some trust with the fan base, this defense has lost touch with its past. Instead of tarnishing the NFL shield, this unit has tarnished a franchise's reputation for aggressive play.
By The Numbers
No matter what metrics you invest in, Tampa Bay's defense the past two years has been abysmal … with the exception of a five-game stretch in 2016.
Let's start with yards allowed. In the past 32 games, Buc opponents have topped 350 yards 17 times. Last fall, Tampa Bay ranked last in total defense. More importantly, the Bucs have yielded 24 points or more 17 times in that same two-year span. And if you take away the glorious five-week stretch that now looks like a mirage, opponents scored at least 24 points 17 times in the remaining 27 games.
No wonder Jason Licht added five new defensive linemen in the offseason.
Hits = Ws?
Gerald McCoy and his new teammates had better hit the Superdome floor running if Tampa Bay has any chance of causing a stir this fall.
Within the first five games, the Bucs will face Drew Brees, Carson Wentz or Nick Foles, Ben Roethlisberger and Matt Ryan. Think about it. Brees and Roethlisberger have already earned busts in Canton. Ryan may be on his way to the Hall. Wentz could be the best young quarterback in the league and Foles is a noted Buc-killer.
Not convinced?
When it comes to career passer rating, Brees ranks sixth all-time.
Roethlisberger stands at No. 9, three spots ahead of Ryan. That's why inspired defense, or more specifically pass defense, is the gateway to a Tampa Bay turnaround.
"Last year, we weren't really being real with ourselves," says Lavonte David. "Everybody on the outside had these certain expectations about us, but we weren't really looking in the mirror and focused on ourselves. This year, we really focused on that.

"I think Coach Koetter and his staff did a great job on that, focusing on getting that out of our past, basically saying that we were poor last year, we were terrible. We weren't where we needed to be and we need to change that. From that day forward, everybody has been hitting the ground running."
You can run, but this defense can't hide. Keep your eye on the quarterback hurries.
If the hits keep on coming, this could be a Buc season worth cheering for.
Ira Kaufman is the most revered sports personality and writer in town. He has hung his hat at JoeBucsFan.com world headquarters since July 2016. Tampa Bay's only Pro Football Hall of Fame voter, Ira busts out columns here every Monday, Wednesday and Friday, and his award winning podcasts fire Tuesdays and Thursdays. You can also hear Ira on SiriusXM Mad Dog Radio Wednesdays during football season, and see him now on Mondays at 10:30 p.m. on Spectrum Sports 360 (aka BayNews 9). Ira also is part of the FOX-13 Tailgate Sunday show and enjoys beet salads, Riesling, Chiefs victories and needling Joe.