Evans Cuts Check For Needy Family
July 22nd, 2018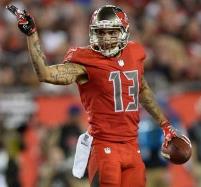 Mike Evans' father was murdered by his uncle when Evans was just a young boy. A handful of years later, Hurricane Ike destroyed Evans' home.
The Bucs' wide receiver saw a lot of hard times as a youth, the kind most people never endure.
That's part of what makes Evans eager to help families and children, which he's been doing more and more lately. And Joe expects more is coming on that front now that Evans has signed a new contract with $55 million guaranteed.
ESPN reports that Evans just coughed up $11,000 to a Florida family who had a father/fiancee shot and killed by police in the garage of their home. A wrongful death suit against police was unsuccessful, and ESPN.com explains how Evans jumped in to help.
Evans asked how he could help the family in a tweet Saturday and was directed to a GoFundMe page that was created after the verdict. Evans' donation helped push the total raised to nearly $100,000.

When the 24-year-old wide receiver signed his five-year, $82 million extension in March, Evans said of his charity plans, "It's hard to put into words. With my actions you'll see it." Last year, Evans and his wife, Ashli, also founded the Mike Evans Family Foundation, which gives scholarships to high school graduates coming from low-income situations and provides help to women and their families who are victims of domestic violence.
Great stuff from Evans. A hurting family is always a good cause.
Joe sure hopes Evans dives in to become a great philanthropist in the Tampa Bay area. On a recent edition of the I Am Rapaport Podcast, Evans said he made no bold expenditures after signing the massive new contract in March. Evans talked about sitting courtside at an NBA game, taking friends and family to another game and buying his mom a fancy watch.