Winning Nucleus — Or Just A Nucleus?
July 18th, 2018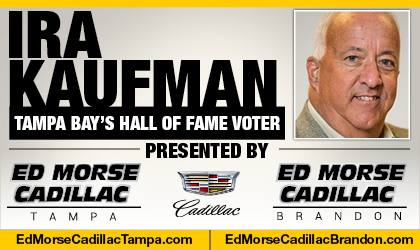 BY IRA KAUFMAN
Six years after Greg Schiano barked out "toes on the line" at One Buc Place, the motto has changed a bit.
Today, it's "jobs on the line."
We know 2018 could be the last year for Dirk Koetter and Jason Licht in Tampa, but they are far from alone when it comes to facing the challenge of a make-or-break season.
Big decisions must be made on the 2015 draft class and another 5-11 finish will surely impact the futures of Jameis Winston, Donovan Smith, Ali Marpet and Kwon Alexander.
Give Licht credit for drafting four starters in one swoop, but it's also true that Tampa Bay is 20-28 during the past three seasons. Another year spent in the division basement would surely give the Glazers pause about whether to reward this quartet with lucrative contract extensions.
Dollar Signs
Gerald McCoy, Lavonte David, Mike Evans and Cameron Brate have already passed the test. They got their money. It's all part of an overall franchise philosophy, according to Buccaneers co-chairman Joel Glazer.
"I think one of the positive signs in any situation is re-signing your own players," he says. "And when you start getting on a trend that you're re-signing your own players, that means you are drafting well. If you're drafting well, generally that means you're going to start having success.
"So you saw Cameron Brate and Mike Evans re-signed. We got a couple of young guys with contracts that are coming up that we know we're going to want to keep. So that to me is the most positive sign of, you know, what's happening with the general manager."
That sounds like good news for Licht, but Smith, Marpet and Alexander can become unrestricted free agents in 2019. In theory, they have some leverage, but all three have been uneven since turning pro.
Smith's inconsistency after three seasons at left tackle is a bit maddening. He tends to play better against better competition, but he needs to be more dependable at a key position.
Marpet was developing into a solid right guard before last year's ill-advised shift to center. Now, he's being moved to left guard, so the entire left side of this offensive line faces a contract year.
Alexander's intangibles are impressive, but he still needs to work on his communication skills and his technique. Right now, he's the middle linebacker on a defense that allowed the most yards in the league.
Winston is in line to make $21 million next year — if the Bucs keep him. If he plays 13 games this season, if he plays well, and if the team wins, Winston figures to be back under center.
That's a lot of ifs.
Next Class Up
Yes, jobs are on the line this fall. And how these players respond to the pressure of entering a potential final contract year could determine the direction of this entire organization.
The Glazers say they don't mind reaching into their pockets.
"The road that leads to sustained success is drafting well, keeping those players and growing the team that way," Joel Glazer says. "Big contracts come along with this formula because if you get it right, you've got to pay big salaries. We look forward to that."
Did the Bucs get it right?
We'll know soon enough. What we do know is this formula worked when the Bucs kept their defensive nucleus intact during the glory years. Two decades ago, here's how ownership explained the decision to reward GM Rich McKay.
"Extending Rich's contract fits in with the philosophy of this team, which is to identify your key personnel and keep them around."
It's your turn, Class of 2015.
Now in his 40th year covering the NFL , Ira Kaufman is the most revered sports personality and writer in the Tampa Bay area. He scored a full-time seat at JoeBucsFan.com world headquarters in July of 2016. Tampa Bay's only Pro Football Hall of Fame voter, Ira busts out columns here every Monday, Wednesday and Friday, and his award winning podcasts fire Tuesdays and Thursdays. You can also hear Ira on SiriusXM Mad Dog Radio Wednesdays at 5 p.m. during football season. Also a TV start, see Ira now on Mondays at 10:30 p.m. on Spectrum Sports 360 (aka BayNews 9). Ira also is part of the FOX-13 Tailgate Sunday NFL show and enjoys beet salads, Riesling, Chiefs victories and needling Joe.