Video: Latest ESPN Report On Jameis Suspension
June 22nd, 2018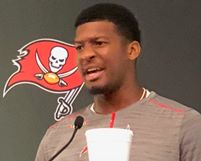 Follow the money, says Adam Schefter, when it comes to the next move by America's Quarterback, Jameis Winston, who is facing a multi-game suspension by the NFL for violating its conduct policy.
The suspension has yet to be made official but Schefter details why he thinks Jameis will not appeal.
Simple math, says Schefter, Jameis' official 2018 salary is less than $1 million. Next year it's over $20 million.
An appeal that drags out could cost Jameis a fortune, and they're rarely successful.
Soak in the video below: