"The Coaches Feel It"
June 7th, 2018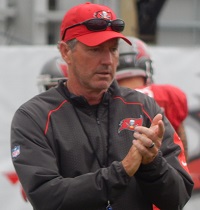 The heat is on "everyone" with a football job at One Buc Palace.
That's what Cameron Brate was telling media following practice this afternoon.
You don't need a Harvard degree, or a Pinellas Park High School degree, to know that. But it sure is intriguing to hear a respected Buccaneer say it.
There's a lot of good change at team headquarters, and it's being felt on the practice field. Brate said it's about urgency after a 5-11 campaign.
"You know what, coming off of a disappointing year last year, you can definitely kind of sense something different at the facility. I would say maybe a little more sense of urgency because everybody knows how big this year is for everyone in the building," Brate said. "All of the players can feel it, the coaches feel it. So, I think there is that sense of urgency. It does feel a little bit different this year, for sure."
Joe is standing and applauding. Bravo!
Joe is confident opening against the Saints, Eagles and Steelers, respectively, has been a healthy catalyst for ramping up the urgency being felt at One Buc Palace. The Bucs must be on their game immediately, otherwise it's draft talk and hot-seat analysis by the Week 5 bye.
Wonderful to hear Brate say the "coaches feel it." They should. So should everyone. The fans sure do. This is no rebuilding year.