Smith: Jameis Bringing "10 Times" The Fire
June 25th, 2018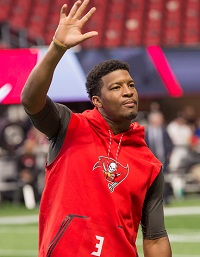 Ironically, America's Quarterback, Jameis Winston, was in the midst of operating on a much higher level of team leadership during the 2018 offseason, so explained one of his longtime teammates.
Joe's talking about the ironman of the Bucs offensive line, left tackle Donovan Smith.
Appearing on the Ira Kaufman Podcast last week, Smith was asked about the maturity of Jameis off the field and what he thinks this season will look like.
Smith predicted a huge season for Jameis in 2018.
"You know, just to see the fire he has. He always has fire, and I think it's times 10," Smith said of Jameis' 2018 offseason.

"It's huge. And you know, Jameis is a guy, his will, it's ridiculous. So, for him to able to see like I said, the whole humbling [2017] season for everybody. Nobody wants that on their record book and under their belt. He's going to come back and do everything under his power to make sure that don't happen. Obviously, you see it, conditioning, running and leading the team and. you know, holding each other accountable, having those uncomfortable conversations with guys."
This was great to hear. And the "times 10" line was delivered without a hint of exaggeration.
As for the "uncomfortable conversations" Smith referenced, no, those were not about Jameis' getting suspended and whatever did or did not happen during that fateful Uber ride. But perhaps they should have been?