Shooting, Barbecue & Good Vibes
June 15th, 2018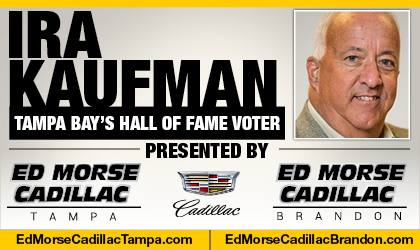 BY IRA KAUFMAN
Three months after joining the Bucs, Mitch Unrein finds himself swept up in a feeling.
The 31-year-old defensive tackle already realizes he's part of a unit that will largely determine the fortunes of an embattled franchise this fall. Jameis Winston's performance will be critical, of course, but an overhauled defensive front is likely the key to Tampa Bay's playoff chances.
The Bucs pounced on Unrein early in free agency and he joins his fifth NFL team eager to share his experience.
"I think there's a great vibe in the room," says Unrein, who played in six postseason games with the Broncos. "Gerald McCoy has been here for nine years and he's very hungry. He's never made the playoffs and we're bringing in some Super Bowl guys in Beau Allen and Vinny Curry. I've been in a Super Bowl, JPP has won a Super Bowl.

"We're going to feed off each other and help the rookies along, help Vita Vea along. He's going to be something special — I can already see it. We try to hang out as much as we can. We went shooting one day, we had a little barbecue. We try to spend as much time outside of football as possible because that brings camaraderie and makes you trust the guy next to you a little bit more when you're out on the field."
Unrein, 31, has never been a sack master or been to a Pro Bowl, but the man has value. When Tampa Bay coaches and scouts looked at his tape in Chicago, they saw a smart, physical lineman with versatility.
Feel-Good Signing
Undrafted out of Wyoming, Unrein came to the Bucs with a little chip on his shoulder pads … just the way Jason Licht likes 'em.
"It makes you feel really good when a team targets you like that," says Unrein. "I've never really been a guy in the spotlight per se, so it made me feel good that somebody noticed what I was doing and noticed how I can help a team out. I'm going to come in here and just try to help the Bucs win games."
Like yours truly, Unrein thinks the NFL schedule maker did the Bucs a favor with an opening date in New Orleans. What better place to announce to the world that this is a defense with teeth?
"Let's set the tone early," he says. "It's a great opportunity for us to show the rest of the NFL what we can do. But the Saints game is a long way out. First, we have to take care of ourselves these next five weeks and come to camp ready to work."
Working Vacation
With a new taskmaster in town, Tampa Bay's defensive line will be feeling the heat in August. Brentson Buckner has already made it clear nobody in his group is beyond reproach.
"Coach Buckner is a great guy," Unrein says. "He played for 12 years and they had a great D-line with him in Carolina. I love the energy he brings. He's teaching you about life as well, and that's big. Faith, family, football … that's a key for everyone."
It hasn't taken long for the Unreins to acclimate themselves to our fair city.
"We're in the Seminole Heights area and we love it," he says. "We've been to Clearwater Beach a couple of times and it's great. Downtown is nice, traffic isn't bad and we've really enjoyed our time here. It's like you're on vacation living here."
Shush, Mitch. Mr. Buckner will hear you.
Ira Kaufman is the most revered sports personality and writer in town. He has hung his hat at JoeBucsFan.com world headquarters since July 2016. Tampa Bay's only Pro Football Hall of Fame voter, Ira busts out columns here every Monday, Wednesday and Friday, and his award winning podcasts fire Tuesdays and Thursdays. You can also hear Ira on SiriusXM Mad Dog Radio Wednesdays during football season, and see him now on Mondays at 10:30 p.m. on Spectrum Sports 360 (aka BayNews 9). Ira also is part of the FOX-13 Tailgate Sunday show and enjoys beet salads, Riesling, Chiefs victories and needling Joe.