"Realistic Threats For Double-Digit Wins"
June 6th, 2018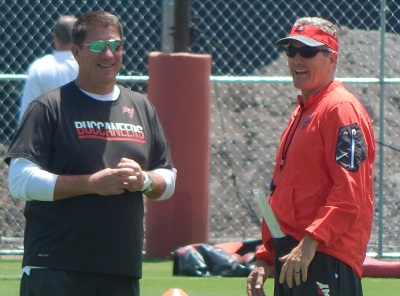 The Bucs are not an under-the-radar team this year. High grades and expectations exist in many prominent circles. 
The NFL-obsessed Around The League crew at NFL.com knows the deal, and their leader, Gregg Rosenthal, spelled it out in a recent look at the power in every division.
He ranked the NFC South as clearly toughest division in football, in part because of Tampa Bay.
Great divisions are competitive from top to bottom, and the Bucs' stirring comeback win over the Saints in Week 17 of last season was a reminder that there are no easy games here. It was also a window into Tampa's potential, which should be more fully realized now that the Bucs have bolstered their defensive line this offseason.

This is the only division where all four teams are realistic threats for double-digit wins, which comes back to their quarterbacks. Productive passing games are more consistent from year to year than strong defenses, and this is a division led by quarterbacks: Matt Ryan and Cam Newton have won two of the last three MVPs, while Drew Brees was playing at a championship level last season. The 2017 Bucs finished fifth in drive success rate, according to Football Outsiders, with a fluky dead-last ranking in lost fumbles per drive torpedoing their season. No lead is safe in a division with quarterbacks this good.
Joe agrees that the Bucs are "realistic threats for double-digit wins." Ten wins likely is an appropriate ceiling for this team in 2018, as Joe sits here on a June morning.
So by that logic, there really is no reason for another losing Bucs campaign.