More Nothing-Special Reviews For Jameis
June 3rd, 2018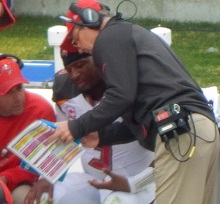 A couple of respected and full-time NFL analysts got together to evaluate quarterbacks under 30 years old in four categories, and America's Quarterback, Jameis Winston, did not make the cut while seven QBs did.
Yes, Joe is a Jameis fan, but reality reveals he's an average NFL starter and likely in the bottom-half of NFC starters.
Former NFL scout and college QB Daniel Jeremiah and ex-NFL defensive back Bucky Brooks, are in their spring/summer break as full-time draft gurus for NFL Network. In a recent podcast, they each selected who they believe are the best QBs under 30 years old in four categories: best choice for one play, one game, one drive and overall for the next 10 years.
Seven quarterbacks ranked, DeShaun Watson, Russell Wilson, Derek Carr, Jimmy Garoppolo, Jared Goff, Carson Wentz and Dak Prescott. Watson was the only QB selected for twice.
No Jameis.
As Joe has written previously, Goff, Wilson, and Wentz have all shown to be better than Jameis in the NFC (Joe can't go there with Prescott), and Matthew Stafford, Aaron Rodgers, Drew Brees, Matt Ryan and Cam Newton certainly would be preferred by coaches and general managers. That's eight out of 16 starters in the conference.
Jameis simply has to step up this season. Do any of these QBs have better receiving weapons? How many can say they are with their playcaller for a fourth consecutive season?