McCoy Still Writing His Story
June 1st, 2018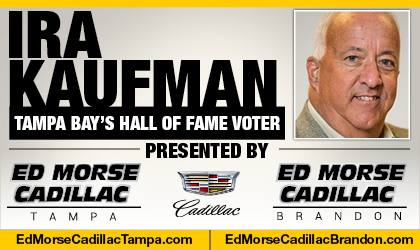 BY IRA KAUFMAN
From time to time, the thought naturally drifts through Gerald McCoy's mind.
It's a chilling thought.
He could be the next Joe Thomas.
Tampa Bay's decorated defensive tackle has a lot of football left in him at the age of 30, but McCoy knows he's on the back nine of his career. And as he prepares for his ninth season in the NFL trenches, he is still seeking an opportunity to showcase his skills in the postseason.
Thomas, a 10-time Pro Bowl left tackle with the Browns, just retired after 11 seasons without a single playoff game on his resume. Despite his stellar efforts, Thomas hung up his cleats with a 48-128 record.
In the midst of all that losing, Thomas was often asked what kept him going.
"You still have a job to do," was his perfect reply.
For the past eight years, McCoy has done his job with distinction, even as a noisy segment of Buc Nation questioned his leadership and toughness. This fall, he will be surrounded by five new defensive linemen as the Bucs try to take back this town after a decade of despair.
"It would be incredible," McCoy says of a potential Buc revival. "I'm just working to make it happen. I won't stop until it happens. If it doesn't happen, I'll work to where people can't say he didn't give it his all. All I can do is my part."
Neighborhood Change
Since being selected with the third overall pick of the 2010 draft, McCoy has heard the adulation of his peers and the taunts of some Buc supporters. The football team he loves is 47-81 since his arrival, with six last-place finishes in the past seven seasons.
"You can't be the same person and do the same things in the NFL and be successful," he says. "I can be way better and the better I am, the better the team is. I can't get lax, can't let up."
If McCoy's focus wavers this fall, all he has to do is look at the lockers of Beau Allen and Vinny Curry, a pair of free agents signed from Philadelphia.
"Vinny and Beau have a Super Bowl game ball at their locker," McCoy says. "You don't want people talking about you. It makes you more dangerous to catch people off guard. Then you can be the Philadelphia Eagles, you can be the Jacksonville Jaguars … teams that come out of nowhere."
Buc fans are familiar with nowhere. It's been their neighborhood for 10 painful years and it's time to move on up.
Perhaps McCoy's career will parallel left tackle Paul Gruber, a member of the Bucs Ring of Honor. For his first nine pro seasons, Gruber was on a losing team every year until 1997, when Tony Dungy led Tampa Bay to the playoffs.
Worthless Paper
McCoy can also draw inspiration from Bills defensive tackle Kyle Williams, a five-time Pro Bowl selection who will turn 35 later this month.
Finally, in his 12th season, Williams was just part of a Buffalo team that ended a 17-year playoff drought.
It was Williams who addressed the team before the critical regular-season finale against Miami and it was Williams who was mobbed by teammates when the Bills learned they had clinched that elusive postseason berth.
"I'm grateful," he said in a jubilant locker room. "There's been so much work to get here."
While Thomas has the look of a first-ballot Hall of Famer for the Class of 2023, McCoy's path to Canton isn't nearly as assured — especially if the Bucs fail to play meaningful games in January.
"I don't care what I see out on the field, I don't care if I feel like we suck, I'm always going to play to win and feel we can win," says McCoy.
With training camp gearing up in less than two months, McCoy is energized by all the new additions. He also has been around long enough to know potential just means you haven't done it yet.
"Anything can look good on paper," he says. "If it's gonna happen, it's gonna happen."
Ira Kaufman is the most revered sports personality and writer in town. He has hung his hat at JoeBucsFan.com world headquarters since July 2016. Tampa Bay's only Pro Football Hall of Fame voter, Ira busts out columns here every Monday, Wednesday and Friday, and his award winning podcasts fire Tuesdays and Thursdays. You can also hear Ira on SiriusXM Mad Dog Radio Wednesdays during football season, and see him now on Mondays at 10:30 p.m. on Spectrum Sports 360 (aka BayNews 9). Ira also is part of the FOX-13 Tailgate Sunday show and enjoys beet salads, Riesling, Chiefs victories and needling Joe.