Lavonte David Says Bucs Were "Embarrassed"
June 12th, 2018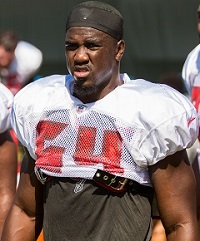 Joe had 1-on-1 time with Lavonte David prior to minicamp practice today and part of the chat was about the very different spring vibe and energy pulsating through One Buc Palace.
It's real, David said.
David agreed with Gerald McCoy's assertion that practices are already different, and David went deeper.
"It's a different type of sense of urgency that going on around here right now. Coaches included. Everybody is a whole 100 percent effort," David said. "Last year wasn't the year that we wanted, wasn't the year that we were looking for and we basically was embarrassed by it. You know, Coach Koetter just made it simple and clear, 'You got to be better,' and make it personal. And it starts during the offseason program and you can see the progress."
There's that "urgency" word again, and another Buccaneer talking about greater effort. Jobs are on the line and everyone knows it.
Joe will have more from David on the schedule and stay tuned today for on-field notes from today's first day of mandatory minicamp.