Jameis Winston Talks AC Joint, Taking A Pitcher's Mentality
June 12th, 2018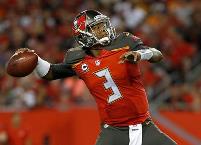 Is America's Quarterback, Jameis Winston, healthy?
He says he is, but he's also interestingly focused on the shoulder he injured in 2017.
Speaking on the Ira Kaufman Podcast today, Jameis answered a question about whether he first injured his shoulder against the Vikings in Week 3 last season. There has been some mystery about when the AC joint in his throwing arm was first injured.
Jameis didn't add any clarity, and he also sounded like a guy who is still trying to get back to 100 percent.
"It's so long ago I really don't remember when I suffered [the injury,] Jameis said. "Because I just remember playing, playing through it. That's what I'm always going to do. I'm happy that I'm definitely feeling better. My arm feels way stronger and I'm improving.

"I think taking care of your shoulder, I view myself as like a pitcher, as in consistent work on your shoulder over and over again. But definitely with the AC joint, I took more of an initiative to make sure that my shoulder is on tip-top point throughout the entire year."
Asked how much the injury affected him, Jameis said it's just part of being a quarterback.
"I just believe people play through injuries all the time," Jameis said. "You know, you really can't determine how it affects you. All you can control is when you're healthy or healthier, that you got to take advantage of the opportunities that you get."
The shoulder will go down as one of the mysteries of the Bucs' 2017 season. How much did it really affect Jameis and the rhythm of the Tampa Bay offense?
Hopefully, the shoulder will be a complete afterthought by opening day for Jameis by opening day. Lots of time between now and then to get it significantly stronger.