Jameis Talk Of "Worried" Bucs Highlights Weakness
June 25th, 2018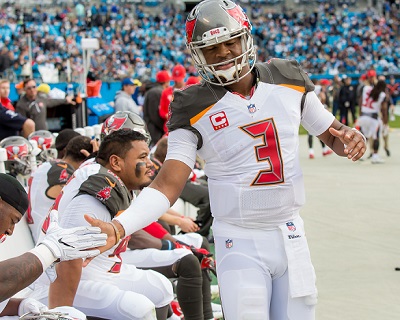 For those who missed it, Jameis Winston himself joined the Ira Kaufman Podcast two weeks ago and dropped his share of revealing takes.
One makes the latest news of Jameis' suspension even more ominous.
To refresh your memory, Joe asked a simple question of Jameis about spring 2018 practices. Jameis quickly went to the distraction card that was prevalent in 2017.
JoeBucsFan.com: Gerald McCoy says the practices already have been different compared to last year's OTAs. How can you, Jameis, explain to fans what's been different in OTAs, what's been different in the building?

Jameis Winston: Well, I think it's just been pretty clear that we were aware that we didn't succeed to the expectations [of] us last year. But this year it's more about us. We're not worried about Hard Knocks. We're not worried about anything outside. We're worried about our individual craft and our individual improvement. So once everybody focuses on themselves first, that's how you make sure that you're doing everything you need to do to add to the betterment of the team.

Joe: So that's the difference. Sort of coming in with that attitude versus maybe learning it a quarter through the season or picking it up.

Jameis: Absolutely.
Essentially, this exchange was Jameis admitting the team got too distracted by off-field nonsense last year, but this year "we're not worried about anything outside."
Well, now the looming Jameis suspension is an even bigger distraction than Hard Knocks and high expectations were in 2017. That's a rough combination for team that's proven to be mentally weak.
How will they handle this year's big, fat distraction, especially when it revolves on the player most Bucs consider the leader of the team?
Frankly, Joe thinks the only way the Bucs stay focused enough to win and get out of this funk is to literally bury Jameis on the depth chart — in practices and in all aspects of offensive work sessions — and let this be 100 percent Ryan Fitzpatrick's team until Jameis returns.
Joe doesn't think the Bucs roster can handle the internal circus of Jameis being an influential force in training camp and then disappearing for three weeks.