Fumbles Killed The Bucs
June 6th, 2018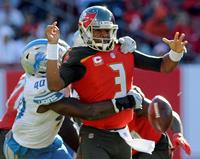 Joe completely missed this data back in January but it sure tells the tale of the Bucs in 2017.
The Bucs had a good offense last year. Yes, they did. They finished No. 9 overall. Only two teams in the top ten did not make the playoffs, the Bucs and the Chargers (common denominator between those two is both have a quarterback).
The Bucs also were fifth in the NFL in average first downs per drive. The Bucs were also the No. 2 team in total first downs last year trailing only the Belicheats, even having more first downs than the most explosive offense in the NFL, the Steelers.
Despite all these glowing offensive numbers, the Bucs were No. 18 in points scored.
And Jameis even cut down on his picks. So what the hell happened?
Well, obviously, the Bucs were garbage in the red zone, No. 24 overall. That clearly hurt.
But where the Bucs really soiled themselves, killing their offense, was fumbles. Per Jim Armstrong of FootballOutsiders.com, no team in the NFL lost more fumbles per drive than the Bucs.
It's kind of hard to finish drives and score points when you play Santa Claus like that.
Throw in a rotten kicking game and one can do the math (even a guy like Joe) to see where things went wrong last year.