Frank Gore, Josh Rosen, Jordan Howard; It Is The Todd Wright Fantasy Football Podcast.
June 3rd, 2018
Podcast (todd-wright-fantasy-football-podcast): Play in new window | Download | Embed
June has arrived and coaches are talking up players on the fantasy radar. No, not June Jones of the Hamilton Ti-Cats. The actual month of June itself and notice how no coaches are downplaying anyone's importance this time of year. Todd looks at Kenyan Drake's "pitch count" in Miami, how Sam Bradford is probably not buying a home in Arizona and whether the hands of Jordan Howard can keep him on the field more in Chicago.
Remember, Todd answers all your fantasy football questions personally at [email protected].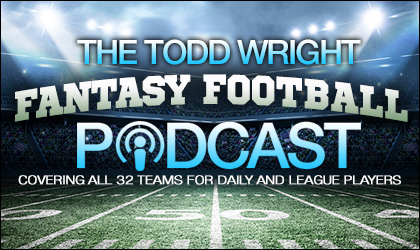 PRESENTED BY BRANDON LEGAL GROUP