Fast-tracking Benenoch?
June 1st, 2018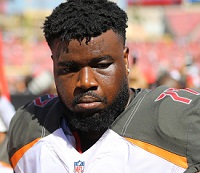 Yesterday watching underwear football, Joe saw a familiar sight: right guard J.R. Sweezy watching practices wearing headgear not suitable for football.
When players are not healthy to practice, the Bucs have them watch, or as coaches like to say, take mental reps.
Now Joe isn't trying to dog Sweezy. He's always been good to Joe and Joe knows of no player with the possible exception of former Bucs cornerback Myron Lewis who wants to be hurt. But as Bill Parcells famously said, your best ability is your availability. Sweezy has missed 18 of 32 games with the Bucs. His season ended with a broken leg last year and he has yet to be cleared for football activities.
When pressed, Bucs types will speak in hushed tones that the team is hopeful Sweezy will be ready for training camp. The Bucs are much more rosy in their prognosis for right tackle Demar Dotson, who underwent knee surgery earlier this spring.
Dotson and Sweezy have combined to miss 36 games the past three seasons. That's not good.
Listening to the Bucs, it seems more likely than not Dotson should be ready to rock and roll come August.
And who the hell knows what's going on with Sweezy?
So the Bucs are hopeful for Sweezy to return for training camp? Just like the team was hopeful both Vincent Jackson and Louis Murphy could return from knee surgeries two years ago (they didn't). Such hope likely cost the Bucs a playoff berth in 2016. Just like the team was hopeful the past two years that Doug Martin would run like he did as a rookie (he didn't).
Long-time readers of Joe know what Joe thinks of the word "hope."
So with the right side of the line anything but locked in due to health, the Bucs have ordered reserve offensive lineman Caleb Benenoch to exclusively practice at right guard. This is a big break from Bucs coach Dirk Koetter's rule that reserve offensive linemen must be flexible and perform in at least two different positions on the line.
Given this uncertainty, Joe caught up with Benenoch after underwear football practice yesterday to talk about the line. He confirmed he's been directed to only practice at right guard but thought it was unfair to speculate what that meant both for his near-future and for the future of Sweezy.
"I don't know what it is for," Benenoch told Joe about his directive from Koetter. "I got in here [for offseason conditioning] and coach told me I'm playing right guard. So that's what I am doing.

"Any time you get to focus and specialize your craft on one thing, it always makes it better. I have made a bunch of strides just in the two weeks I have been out here at right guard."
Benenoch didn't believe he was being put on a fast track to start, only because reserve players always have to prepare as if they may start.
"The way coaches are, you have to get ready to start every day out here," Benenoch said. "Nothing has changed [in preparation]."
But Joe is free to speculate. Koetter is a big believer in reserve linemen multi-tasking. The fact Koetter ordered Benenoch to only work at right guard, which just so happens to be the very same position where the incumbent starter struggles to stay healthy and is currently on floppy hat patrol, it sure seems to Joe like the Bucs are far more scared of Sweezy's physical status than they are letting on publicly.
Based on what Licht said last night on SiriusXM NFL Radio about the right guard position, Sweezy's status is anything but a given.