More Dollar Signs For Ali Marpet
June 11th, 2018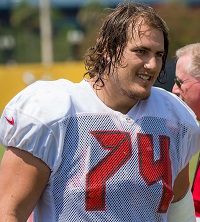 We all saw the monster, record-setting cash ex-Panthers guard Andrew Norwell got in free agency from Jacksonville back in March.
And now the guard bar is higher with Cowboys beast Zack Martin about to ink a new deal.
NFL Network is pumping out news today that Martin is about to crush Norwell's deal, which features $30 million guaranteed through the 2018 and 2019 seasons.
The Bucs have a young guard entering his contract year, too. That's Ali Marpet, and you can bet Marpet will demand that kind of cash if he can muster a Pro Bowl kind of season in 2018.
Sure, the Bucs could try to re-sign Marpet now, but that might require at least 85 percent of what Norwell hauled in.
Joe believes the Bucs should play wait-and-see with Marpet.
The reality is that he's only had one healthy season out of three, including missing five games to injury last year. Joe can't think of a reason why the Bucs should open the vault early for any player with a history of injury. Make the guy prove he's a 16-game piece of the puzzle.
Frankly, Joe also loves the idea of Marpet and Donovan Smith trying to outdo each other on the offensive line all season long, trying to be top dog on the o-line when it comes to securing a contract extension.