Bucs GM: Jackson-Jameis Connection Improved
June 1st, 2018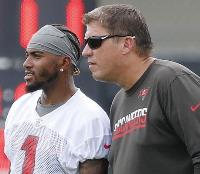 Six of 10 Buccaneers spring "OTA" practices are in the books and general manager Jason Licht has a review that will stop the intermittent weeping of many Bucs fans.
Licht opened up a bit on SiriusXM NFL Radio last night and shared that he already sees improvement in one of the troubling areas of failure in 2017: the chemistry between DeSean Jackson and America's Quarterback, Jameis Winston.
Host Alex Marvez asked about that specifically.
"Well, they worked together this offseason," Licht said. "DeSean has been here. We've seen the improvements already here in practices, Jameis connecting deep."
Licht went on to praise the rest of the receiving corps and called it a "selfless group." But the money comment surely was Jameis and D-Jax finding more of a groove.
Only three of the six OTA sessions have been open to media, so Joe has to take Licht at his word here.
Some of this, of course, is just a perception game. If Jameis and Jackson believe they're in a better rhythm, then they probably are, or at least will be when the real games begin.
It's June 1. This is the kind of stuff to get excited about this time of year. It's better than the alternative; Jackson not showing up for OTAs and the Bucs trying to convince everyone that it's no big deal.