Barber On Tom Jones: Unfair To Jameis Winston
June 24th, 2018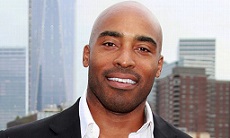 The national talk of the NFL is the Buccaneers' franchise quarterback. But there's also heavy chatter about the guy who wants Jameis Winston run out of town immediately. 
Plenty of respected analysts are wagging a finger of shame at Tom Jones, the Tampa Bay Times columnist who floated the bold take last week that the Bucs should never have Jameis take another snap because he committed a "sexual assault."
Never mind that there's no clear evidence of that — and he was only accused of a five-second crotch-grab of an unnamed female uber driver two years ago.
NBC Sports Radio host Tiki Barber, Ronde's brother, said Jones went too far.
"We don't know if it's true. And so to cut him because of an allegation, simply because it somewhat ties to his sordid history when he was at Florida State, I think is premature. And I think it's unfair to Jameis Winston," Barber said of Jones' column.

"My only issue is [Jones] throws in the word 'alleged' which kind of distances him from accusing Jameis Winston," Barber continued. "But then personifies him with a characterization that is disgusting and despicable and not responsible, and this is not what the Bucs espouse. He's talking about of both sides of his mouth. It's what journalists do some time to make a point in a column. It's kind of unfair."
Barber went on to say Jameis will lose the battle for public opinion initially.
"This is really damning for Jameis' reputation, more importantly for the Bucs'," Barber said. " Whether's it's true or not almost doesn't matter, but we're going to assume that it is. Because he's constantly in peril's way, perceptual peril's way.

"Always he seems to be right where something bad is occurring, and it's led now to a suspension. And if you think the NFL is being unfair, it may be, but it doesn't matter. The NFL can do whatever it wants."
As for Ryan Fitzpatrick, Barber insists the Bucs will open 0-3 if Jameis isn't available. He's confident the opening opponents, New Orleans, Philadelphia and Pittsburgh, are simply that much better than the Bucs minus Jameis.