Todd Monken Talks Charles Sims' Important Role
May 19th, 2018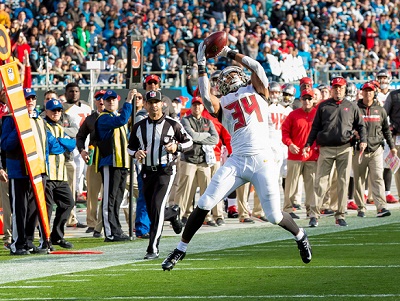 There are so many ways to evaluate running back Charles Sims.
An optimist quickly would note the Bucs' offense had the fourth-best percentage in the NFL at converting third downs last year.
And considering Sims was their third-down back for every game in 2017, then it's easy to conclude Sims did a pretty damn good job.
In 2016, the Bucs were sixth-best at converting third downs, when Sims played half a season because of injuries.
A free agent in March, Sims sat on the street until he and the Bucs agreed on a new deal just before the NFL Draft. On Thursday, offensive coordinator Todd Monken sure made it sound like Sims would get a load of snaps again this season. Sims led Bucs running backs with 380 snaps last season.
"We're happy to have Chuck Sims back in the role we like him as, which is a third-down back, his ability to catch the ball and protect. That's an undervalued thing in this league, protect on third downs, which he does a great job of," Monken said.
Simply stated, count on seeing plenty of Sims. Pass protection is supremely critical in the world of Dirk Koetter, and it will take an awful lot for rookie running back Ronald Jones to see the field on the money down in 2017.
Hopefully, Jones will cut the number of third downs by getting the job done on first- and second-down touches. It sure will be interesting to see how the Bucs handle short-yardage situations this season.