Rookie Receiver Watson Talks Tears, Early Call
May 5th, 2018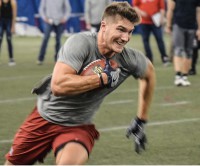 Receiver Justin Watson isn't your typical fifth-round draft pick in a lot of ways.
The man is an absolute icon, a folk hero at his school, the University of Pennsylvania.
He holds nearly every Penn receiving record, so it's no surprise that he's getting a mountain of media attention in his home region. Joe's found that the Ivy League NFL prospects always seem to get extra love, which could be a good sociology study for a grad student somewhere.
Anyway, as quoted in The Daily Pennsylvanian, Watson said shared more on his draft-day phone call from Jason Licht, who actually called him early and decisively, seemingly certain he wouldn't be trading down.
"When they first called, it started to hit me, and I started tearing up and getting emotional," Watson told Penn Athletics. "And I think after getting off the phone with them, it still felt kind of surreal — still feels like a dream right now, but I'm just soaking in every moment. …

"[When the phone] said Tampa, Florida on it, I just rushed with emotion … the GM [Jason Licht] said, 'in two picks, we're gonna make you a Tampa Bay Buc, how does that sound?' and I was just so excited," Watson said. "It was the place I wanted to play in from the beginning; I love the receivers coach [Skylar Fulton], I love the offensive coordinator [Todd Monken], and it's gonna be a great place for me."
Joe found the phone call timing interesting, with Licht calling well in advance of the pick.
Sure-handed Watson snagged 14 touchdowns last season, including one in every game, which set an Ivy League record. He's got the big body (6-3, 225) and the 4.4 speed in the 40-yard dash.
Is he the next Kenny Bell, the Broncos wide receiver (zero career catches) who was the Bucs' 2015 fifth-round pick? Or is he the next Chris Godwin, last year's third-round steal?
Somewhere in the middle would probably work out just fine.