Peer Referendum Coming For Jameis
May 1st, 2018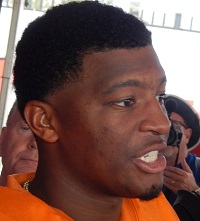 One year ago, America's Quarterback, Jameis Winston, received an impressive honor from fellow players across the NFL.
Soon we'll know if those same players feel the same way.
Annually, for the NFL Network series Top 100 Players of [insert the year], several hundred active players across the NFL vote to establish who makes the list and where they rank. It's a players-only vote and one that means something to guys in the league.
NFL Network builds programming through each spring and summer to slowly unveil the list.
In 2017, Jameis made his first career appearance with a ranking of No. 57. That was 13th best among quarterbacks. Three QBs made the list after Jameis: Kirk Cousins (70), Phillip Rivers (73) and Alex Smith (81).
Last night, the show kicked off for 2018, and Nos. 81 through 100 were revealed. Two quarterbacks were in that mix, Niners QB Jimmy Garoppolo (90) and Cousins, who fell to No. 94.
Joe is very curious to see where Jameis ranks among his peers this season.
Jameis has long been beloved among players leaguewide for his fierce competitiveness and leadership, but Jameis certainly endured a lot of mocking for his eating Ws speech, and Joe knows it didn't go over well when Jameis entered the field of play to poke Pro Bowl Saints cornerback Marshon Lattimore. Losing nine starts in a row likely hurt Jameis, too.
Joe sure hopes Jameis doesn't fall off the list.
If he does, perhaps it will serve as a wake-up call and a fresh shot of motivation.