Much Bigger Fish To Fry
May 12th, 2018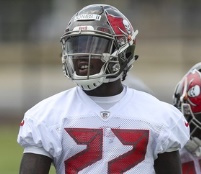 Joe can understand if some rookies get caught up in the moment.
Since they were children they worked and sweated and bled for years to get where they are. Yeah, the draft is cool but that, in many ways, is window dressing.
Yesterday, Bucs running back Ronald Jones was talking about how it moved him to finally put on an NFL practice jersey with a real honest-to-goodness NFL helmet in an NFL locker room.
So Joe asked him what it was like to know he reached his goal to be on an NFL roster. Jones didn't really like the question and politely set Joe straight.
"I haven't arrived yet," Jones said. "This is still a work in progress."
Pretty good answer. Jones understands there is much work to be done. Shoot, he hasn't even suited up for a preseason game yet.
That will come. Along with more work.