Koetter "Welcomes Criticism From Players"
May 8th, 2018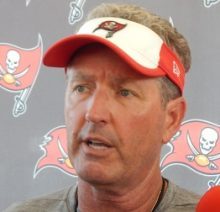 Yes, Joe was bowling with Bucs on Monday night at Donovan Smith's charity event in Tampa to raise money for an autism research and outreach organization.
Most of the biggest names on the Buccaneers roster were in the house, and Smith deserves a huge thumbs-up for being very hands-on in running the event in various ways. There was no fancy event planner doing everything for Smith while he relaxed.
Joe paid to participate and made a donation, but Joe also was there to gather info and work with a high school senior who is in the midst on a three-week internship at JoeBucsFan.com.
"Junior Joe" chatted with Buccaneers on the record with a recorder and uncovered this little gem from Ali Marpet.
Marpet was asked about his initial impression of Dirk Koetter and how that impression has changed.
"My first impression was when he was our offensive coordinator with Lovie; he was a smart man, knew football extremely well, held himself to a high standard and conducted himself as a professional." Marpet said. "I think I learned a little bit more about him. I think one thing that I can respect about [Coach Koetter] that I didn't know at first is that he is always looking to get better as as coach. He's always looking to see what he can do to improve his coaching style, and he actually welcomes criticism from players, or welcomes critiques from players on how to be a better coach."
Nice nugget there from Marpet, revealing that Koetter craves player feedback and pointed critique so he can raise his coaching game. Koetter certainly didn't learn that from Lovie Smith.
So what did Koetter learn from his team that will be applied in 2018?
The Marpet comment reminded Joe of when the Bucs defense was horrid during the first half of the 2016 season, and then Mike Smith gathered the troops and sought fixes, which came and were effective immediately.