Jason Licht Is Not Finished
May 14th, 2018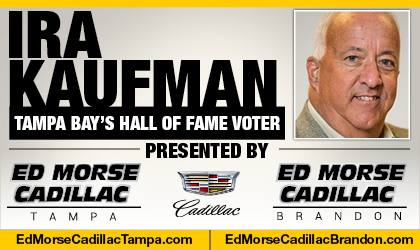 BY IRA KAUFMAN
There's more work to be done.
The draft is over and the free-agent market has been depleted, but I'm not convinced the Bucs are ready to compete with the big boys of the NFC South without a few additions.
When I look at Tampa Bay's roster, I see a glut of talent and depth at wide receiver/tight end and on the defensive line, where Mike Smith now has five new bodies to throw at Drew Brees, Matt Ryan and Cam Newton.
As the Eagles proved last season en route to a championship, you can never have too many quality men up front to stop the run and make quarterbacks squirm.
The new-look defensive line is the biggest reason Stick Carriers are optimistic about the 2018 Bucs. And on offense, Jameis Winston surely can't complain about his targets. Now all he has to do is build some chemistry with DeSean Jackson.
Every team has needs — and these Bucs are no different. When Jason Licht looks at his current roster, he can't be overly confident about this secondary and the right side of his offensive line.
Good News & Question Marks
The good news is a better pass rush will certainly ease the burden on defensive backs who had to cover way too long last fall. You can take more chances and the cushions should shrink if you know quarterbacks won't have the time to waltz through progressions without getting their hair mussed.
The addition of Ryan Jensen should give this offensive line a nasty anchor as Ali Marpet shifts to left guard, his second position change in as many seasons. How about the right side?
Don't ask.
We saw J.R. Sweezy last year — and let's just say Buc fans weren't overwhelmed. Now we don't even know when or if Sweezy will be available in 2018. That wouldn't seem like such a problem if the Bucs had options who inspire confidence.
Despite the rhetoric coming out of One Buc Place at the moment, Alex Cappa projects as a right tackle at the pro level, not a 6-foot-6 guard. Caleb Benenoch started the final five games at right tackle and might have a future there, but he lacks experience at guard.
If the season started today, Evan Smith would likely start at right guard. That's not a disaster, but Smith ideally would be a versatile backup at the interior spots.
Right tackle Demar Dotson was an ironman between 2012 and 2014, but the longest-tenured Buc turns 33 in October and he has missed 18 games in the past three seasons. If Dotson can stay healthy, he remains a dependable player, but his body may be breaking down.
Shopping List
This uncertainty up front fueled my passion for Quenton Nelson, but the Colts pounced on him at No. 6, just before Licht was ready to make him a Buccaneer and turn the offensive line into a team strength.
We've heard a lot about the potential of Carlton Davis and M.J. Stewart in the past few weeks, but the cornerback position still seems thin.
Brent Grimes will be 35 in July and he missed three games last year. If he goes down for an extended period, look out.
The other corners on the roster are Davis, Stewart, Javien Elliott, Maurice Fleming, Vernon Hargreaves, rookie Mark Myers, David Rivers, Josh Robinson and Ryan Smith.
In that group, Hargreaves is the only one who has recorded an interception in a Tampa Bay uniform … and he has only one.
Davis has the size and physicality the Bucs crave at corner, but let's not be in a hurry to test his ball skills against Michael Thomas and Antonio Brown within the first three weeks.
That's why the Bucs should still be in the market for a veteran corner who can teach these youngsters how to be a pro. Ronde Barber started only nine games in his first two seasons before emerging as a future Hall of Famer.
Licht has every reason to feel good about his offseason makeover, but let's be realistic. This roster still needs a touch up.
Ira Kaufman is the most revered sports personality and writer in town. He has hung his hat at JoeBucsFan.com world headquarters since July 2016. Tampa Bay's only Pro Football Hall of Fame voter, Ira busts out columns here every Monday, Wednesday and Friday, and his award winning podcasts fire Tuesdays and Thursdays. You can also hear Ira on SiriusXM Mad Dog Radio Wednesdays during football season, and see him now on Mondays at 10:30 p.m. on Spectrum Sports 360 (aka BayNews 9). Ira also is part of the FOX-13 Tailgate Sunday show and enjoys beet salads, Riesling, Chiefs victories and needling Joe.