Jason Licht Acknowledges Coveting Quenton Nelson
May 3rd, 2018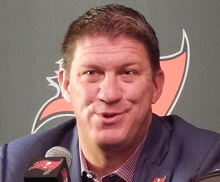 Perhaps one day, when he's firing up a cigar after his Buccaneers win the Super Bowl, general manager Jason Licht will take a picture of his 2018 NFL Draft board and post it on Twitter.
Truly, more general managers should do that. What a fun gift it would be for the hardcore fans. And that's what the game is supposed to be about.
Anyway, fans learned yesterday that Licht's 2018 board had a couple of smiley faces next to Notre Dame guard Quenton Nelson.
Licht was asked about the draft on WDAE-AM 620 and whether Nelson was player he "coveted" with the No. 7 overall pick and what his reaction was when he was plucked off the board at No. 6 by the Colts.
"It was," Licht said regarding coveting Nelson. "Vita was one of the guys we coveted, too. But it was one of the guys and my immediate reaction was wait for the call from Buffalo."
The Buffalo trade was the best deal on the table to "add more to our arsenal," added Licht.
It was the smart trade and a great move.
Imagine if Nelson fell to the Bucs at No. 7 and they drafted him. What would the Bucs have done next? Would they have drafted Jones or gone with a better cornerback with their lone second-round pick, or would they have traded down with it to draft cornerback M.J. Stewart and the next best running back they could find?
Quality bar conversation.