"Get Rid Of Those Three Plays"
May 15th, 2018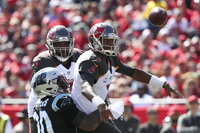 What will take America's Quarterback, Jameis Winston, from being the very average NFC starter he is to the ranks of the stud NFL gunslingers?
A former Buccaneer has a simple but astute theory.
Ian Beckles, the former Tampa Bay starting guard (1990-1996), says getting Jameis where he needs to be is primarily about getting Bucs fans to stop banging their collective heads against the wall.
"The most important thing for me and Jameis Winston is that he eliminates those three plays," Beckles said. "Buccaneer fans, you know what I'm talking about, like Jameis could have a great game, throw for 380 [yards] and there'll be three plays in the game where you go, 'What the hell were you thinking about?' He's so competitive that he makes really dumb decisions sometimes. And he needs to figure out a way to get rid of those three plays.

"If he gets rid of those three plays, I mean statistically he's up there with just about everybody. I mean I still have confidence in Jameis Winston that he's the guy. Run the football a little bit more, too, Dirk Koetter. I think that will help is situation out. We still don't want Jameis Winston throwing the ball 40 times a game. I don't. That's just not really an equation for success."
Yes, Mr. Beckles, fans get the point. Jameis fumbled 15 times and threw 11 interceptions last year in a little over 11 games of total action. Throw in some rough decisions and that adds up.
Joe would do cartwheels on St. Pete Beach if Jameis could improve his ball security significantly. It shouldn't be that hard, not with an offensive line that pass protects as well as the Bucs'.
Beckles also said he wants to see Jameis tone down the leadership a bit and start making people around him better.