"I Got In My Own Way"
May 29th, 2018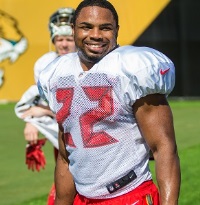 Doug Martin has been talking where he appears to feel safe, in the warm, embracing bosom of Chucky.
NBC Sports Bay area reporter Scott Bair was Twittering earlier today about a chat he had with Martin.
It seems Tampa was too tough for Martin to handle.
@BairNBCS – Doug Martin says "I got in my own way" over last few years in Tampa, believes being home (he's from Stockton) around friends and family will keep him busy…Also, said Bay Area "has a lot of hills." He has ran quite a few to get in top shape.
Joe keeps trying to put the Doug Martin mess in the rear view mirror and find inner peace, but stuff like this opens all the old wounds.
OK, Martin has battled personal problems. He's human. But why the heck did the Bucs stand by him and let him drag the offense down? It was so obvious that Martin didn't deserve to be on the field last year.
Joe wishes Martin well with the Raiders, and no, just like last year, Joe isn't fooled by positive reports of Martin coming out of Raiders spring practices.