"He's Athletic Enough To Get Away With Using Bad Technique"
May 29th, 2018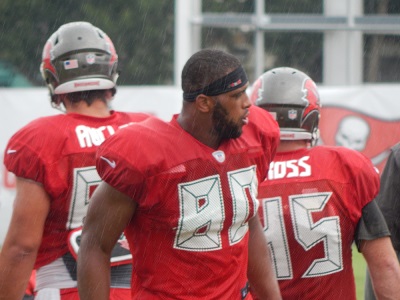 So where is O.J. Howard in his development?
That's a great question for the man who might have the most knowledge on the subject, Bucs tight ends coach Ben Steele.
Along with other assistant coaches, Steele took questions from local media recently and explained that Howard has the tools but not yet the technique.
"He's a guy super humble and he knows the stuff that he needs to get done. Now it's those details of everything," Steele said.

"He's athletic enough to get away with using bad technique, but at the end of the day that stuff's going to catch him. So, you know, he's got to fine tune his details and he's got to get more efficient with his footwork, his hands, crisper routes. That's the stuff we're working on now and I'm excited to see where he's going to go with that."
The "bad technique" line made Joe take pause. Did Howard come in with bad technique, or is he just inconsistent? Or is he just on an understandable learning curve with everything being thrown at him? Probably a little bit of everything.
Regardless, Joe was pleased to hear no sign of Steele coddling Howard in any way.