"He Was Inundating Inboxes Here"
May 21st, 2018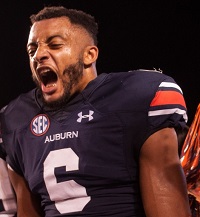 A special kind of fire burns in Buccaneers rookie cornerback Carlton Davis, so explained general manager Jason Licht.
That's comforting to hear while many Bucs fans wonder what's been burning around Vernon Hargreaves.
Licht came out of last month's draft puffing his chest like many GMs do. Licht had good reason. He picked up a rare talent at defensive tackle, after trading for a rare talent at defensive end. And he walked away with three second-round picks that addressed pressing needs. Unique talents also found their way to the Bucs in Rounds 3 & 4.
Recently on WDAE-AM 620, Licht talked about how Carlton Davis, the big, tough-guy, press-specialist cornerback from Auburn is more than just a talent on the field.
Licht said Davis has the innate confidence and hunger to become a quick locker-room influence.
"And you know, from the minute we drafted him and we reached out to him and told him he was going to be a Buc, he was super excited. But he was inundating inboxes here with text messages, already wanting the playbook and already wanting to know what he can do to prove himself," Licht said. "And that's a good thing. We'll take that all day every day. Those personalities end up being great for that locker room."
Back in the old days, Raheem Morris would have called Davis "yungry." It's a good sign.
Joe doesn't care whether it's Davis or fellow second-round cornerback M.J. Stewart, but one of them has to be an impact rookie in a hurry this season. If not, the Bucs are unlikely to reach their goals.
Licht added that by the time 21-year-old Davis was picked at No. 63 overall, Davis "was sticking out like a sore thumb on our draft board."