Fourth-Quarter-Fresh Philosophy Is Questionable
May 20th, 2018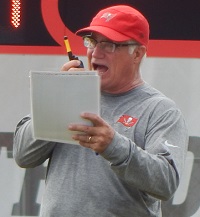 Mike Smith got into a little football philosophy talking while to media Wednesday, and some of it left Joe unsettled.
It's a bit of nitpicking, but maybe not if you consider the words of Peyton Manning and everything Smith said.
Manning, the legendary quarterback, has the most fourth-quarter comebacks among QBs in NFL history with 43. Only four other quarterbacks have more than 30.
Manning was often asked about that mark when he was playing, and Manning typically would respond with a head shake. As Manning would say, that stat only meant he didn't play very well in the first three quarters and it really was not something to celebrate.
Joe always loved that take. So true, and it represented the right attitude.
The goal of every team is to punish its opponent in the first half and dictate the game from there.
With that in mind, Joe turns to Smith discussing that, barring injuries and or issues, Buccaneers defensive linemen will rotate a lot more this year and there will be a preservation system for the final minutes of games.
"We're not going to play guys like we have in the past in terms of their play count," Smith said. "We're going to make sure that we're going to have these guys fresh for the fourth quarter when games come down to the last drive, and most games do, 65 percent. We want to go out there and be as efficient as we can."
The rotation thing sounds nice, but it is very difficult to implement efficiently (to use Smith's word). And it's fair to say that Smith has very limited experience with the kind of rotation he's seeking in 2018.
Yeah, Joe understands the concept of keeping players fresh, but frankly, the Bucs must stop starting slowly in games and they need to win games at all costs early this season. There's no time to play rotation games for the sake of philosophy. If Jason Pierre-Paul and Gerald McCoy are healthy and fresh enough to play 80 percent of the snaps against the Saints, Eagles and Steelers through the first three games, then that's exactly what should happen.
If Vita Vea is disruptive but limited in his snaps because of stamina, then Joe would rather see Vea out there early in the game wreaking havoc and helping the Bucs play with a lead.
"We're going to put the best 11 guys out there on every snap," Smith said Wednesday.
That's a very tough balancing act on a deep defensive line. It might be Smith's biggest challenge this season.
Joe hopes Smith's approach and focus is to bury teams in the first half. Games can be won there, too, Coach.
And what a darn culture change it would be to look at the game that way.