Charity Time For Mike Evans
May 7th, 2018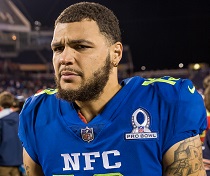 Mike Evans and his new charitable foundation are doing more than just selling over priced t-shirts. They're making a difference.
Evans has been giving back locally, and over the weekend he was doling out scholarships in his home state of Texas.
The Eagle reported that Evans was rewarding aspiring college students at halftime of a charity basketball game he was leading — prior to a foundation golf tournament.
Greene was one of five local high school seniors that received a $2,000 scholarship from the Mike Evans Foundation at the halftime of his celebrity basketball game at College Station High School.
Twenty-five students submitted essays on why the scholarship will help them to attend college and how they will use the opportunity to give back to their community. Greene said the financial aid helped her make the decision to choose her dream school — TCU and its high price tag — in order to earn a social work degree, which she will use to give back to minority groups in her community.
"I was making a hard decision on if I was going to be able to afford TCU, then I got this scholarship, and it relieved my stresses and made it feel like [an even] better opportunity for me and the right choice," she said.
More, more, more! Joe loves to hear this and would love to see more giving from Bucs players. Of course, Joe realizes a lot of these guys are generous without a shred of publicity.
Evans, though, should be at the forefront. Still just 24 years old, he's sitting on the promise of $55 million guaranteed from Team Glazer. That represents an amazing opportunity to secure his family's future and help a lot of people, which Evans has said he's committed to doing.