And The Bar Hits $100 Million Guaranteed
May 3rd, 2018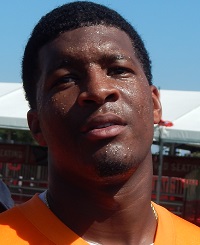 You like that, Team Glazer?
It was serious coin when quarterback Kirk Cousins locked down $82.5 million guaranteed from the Vikings in March.
Today, the franchise QB bar jumped quite a bit, nearly 25 percent. Word of Matt Ryan's new deal comes via D. Orlando Ledbetter of the mighty Atlanta Journal-Constitution.
The Falcons reached a five-year, $150 million contract extension with their quarterback on Thursday. Overall, Ryan's contract is now worth $169.25 million, with $100 million guaranteed. After next season, he will average $30 million per season.
Wow. That fifth-year (2019) option on Jameis' contract for $21 million is starting to feel like peanuts. Heck, brittle Sam Bradford will earn $20 million this year for the Cardinals, while Mike Glennon soaked in $18.5 million with the Bears just last year alone.
So $30 million annually and $100 million guaranteed is the new bar for quarterbacks — while a backup just won the Super Bowl, the same guy who beat Case Keenum in the conference championship. What a country!
The QB money is sure to rise, which will make it even more attractive for teams to chase rookies who can win while they're still under the inexpensive rookie deals.
Good luck, Jameis. A strong season will get you paid.