True Believers, Jameis & Leading Brett Favre
April 18th, 2018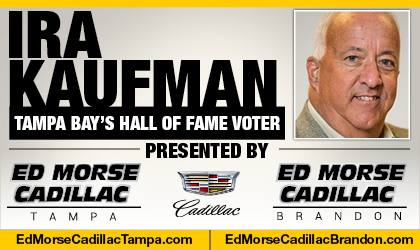 BY IRA KAUFMAN
Jameis Winston is bubbling over with good stuff you can't teach, yet he has so much to learn.
To say this is a big season for No. 3 is a little like saying Tropicana Field occasionally has some seats available.
Obvious, obvious, obvious.
When Winston took to the podium earlier this week as players filtered back into One Buc Place, his wide smile was on display once again.
That's because football is Winston's oxygen — he can't live without it.
That's why, despite Winston's career record of 18-27, everyone in the building believes he is destined for big things.
Count me in as a true believer.
In the NFL, you can only fake passion and enthusiasm for a while before you're exposed as a fraud. Demar Dotson said he can spot a fake very quickly … and I think that holds true for Buc fans as well.
Say what you will about Winston's fumbles, interceptions and poor reads, but never doubt the man's dedication to this sport and his teammates. When we sat down with Joel Glazer last month, the co-owner of the Bucs couldn't stop talking about Winston's work in the community and his fervor for the game.
Big Talk, Big Appreciation
Those remarks made their way back to a fourth-year quarterback who appreciates the support.
"It meant a lot to me because I know my work ethic for this organization and for this team is unparalleled," Winston said.

From someone else, those words can be seen as boastful and self-serving. Guess what? Winston isn't someone else.

"Every day I walk in this building. I'm trying to be the best I possibly can be and be a great leader for this organization, so to have the support of ownership, it really inspires me to continue to work hard and continue to be the leader that I am."
Winston certainly didn't lack for targets last year as rookies O.J. Howard and Chris Godwin made an immediate impact. A shoulder injury forced Winston to miss games for the first time as a pro, but he still has to take his fair share of the blame for an offense that topped the 21-point mark only six times in 16 games.
There's no excuse for Mike Evans and DeSean Jackson to combine for only eight touchdowns, so it's up to Dirk Koetter and Todd Monken to figure out a way to maximize Tampa Bay's offensive talent.
Bad Favre Comparison
It would help immeasurably if the ground game can be resurrected after two years of lousy production. That 4.8 average yards per carry in 2015 is a high bar, but Koetter knows 3.7 and 3.6 won't get it done.
As a result, Tampa Bay's offensive balance isn't what Koetter envisioned.
Winston is averaging 34 pass attempts per game, which is more than Brett Favre averaged for his career. In this case, less would be more, at least until Winston is established as a winning quarterback.
The Bucs had no option but to pick up Winston's fifth-year option. He knows he still has a lot to prove on the NFL stage, but he plans on beating everyone into the building once again this fall.
If Winston doesn't earn a second contract here, it won't be from lack of effort. He remains the smiling face of this franchise.
Ira Kaufman is the most revered sports personality and writer in town. He has hung his hat at JoeBucsFan.com world headquarters since July 2016. Tampa Bay's only Pro Football Hall of Fame voter, Ira busts out columns here every Monday, Wednesday and Friday, and his award winning podcasts fire Tuesdays and Thursdays. You can also hear Ira on SiriusXM Mad Dog Radio Wednesdays during football season, and see him now on Mondays at 10:30 p.m. on Spectrum Sports 360 (aka BayNews 9). Ira also is part of the FOX-13 Tailgate Sunday and enjoys beet salads, Riesling, Chiefs victories and needling Joe.