September Father Dungy Night Appears Imminent
April 20th, 2018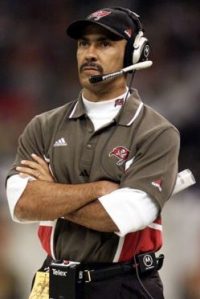 Tampa Bay still has plenty of worthy names to induct into their Buccaneers Ring of Honor, and this year's schedule appears to make the choice a slam dunk.
For those unaware, Hall of Fame coach Father Dungy didn't just patrol the sidelines for the Bucs and Colts. He also won a ring as a defensive back for the Steelers, even tackling Hall of Fame running back Tony Dorsett late in Super Bowl XIII.
Now an analyst on Sunday Night Football, Joe believes Dungy, who still lives in Tampa, is primed to be inducted into the Ring of Honor when the Bucs host the Steelers on Monday Night Football on Sept. 24.
It's really a no-brainer, unless Dungy declines an offer for some reason.