Schedule Release News!!!
April 18th, 2018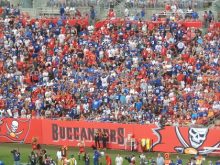 The start of a great American national holiday is nearly upon us.
Joe is fired up like the rest of Buccaneers nation to soak in every last detail, date and time on the 2018 schedule, which will be released tomorrow night at 8 p.m. on NFL Network.
It really should be a 24-hour national holiday celebrated by fans chatting into the wee hours about their team's schedule and projecting wins and losses — and guzzling beer.
This year comes with extra excitement for Bucs fans.
First, the team has leaked that it will be selling single-game tickets within hours of the schedule release. In past years, single-game tickets didn't go on sale for many, many weeks, giving the team lots of time to pimp season passes and group sales first. It's an awesome, fan-friendly move by the Bucs.
Second, the schedule release means the first Fan Retreat (road trip) with FanRetreat.com, Joe and Sage columnist Ira Kaufman will be announced before the NFL Draft. Last year's extravaganza in Miami was trashed by Hurricane Irma, but more than 200 Bucs fans were confirmed for a big pregame party.
However, this year's plans will be much better. Stay tuned!
Joe is yearning for the Bucs to open the season on the road against nothing-special Cincinnati (no hurricane chance) and then come home for Cleveland in Week 2 before the Browns build any significant confidence.