Offensive Defensive Coaches
April 19th, 2018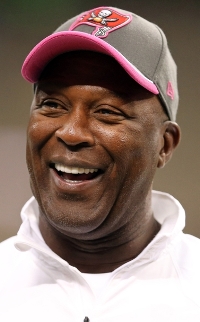 This gave Joe acid reflux.
No, Joe doesn't take much pride in the following, but a few months ago Joe decided it was time to quit sugarcoating things. Folks go nuts when Joe refers to the home of the Bucs as the "Den of Depression" but it is true. Only the Browns have more losses at home since Chucky was jettisoned than the Bucs.
The Bucs also have the longest playoff drought of any NFC team.
While doing a bit of research yesterday, Joe found a pattern as to why the Bucs have pretty much been an NFL punching bag since Chucky was fired in January 2009.
Since that time, the Bucs have hired four coaches. Three were supposedly defensive minds, Raheem Morris, Greg Schiano and Lovie Smith. And they were largely massive failures at the side of the ball where they supposedly made their bones.
In this decade, only the Browns (.227) and the Jags (.321) have a worse winning percentage than the Bucs (.367). In that same time frame, only the Raiders (25.9) and Redskins (25.1) have allowed more points per game than the Bucs (24.8).
Moral to this story? If you are going to hire a defensive coach as a head coach, you better hope the guy can coach defense.