"When Is The Last Time What Somebody Did In College Translated To The NFL?"
April 8th, 2018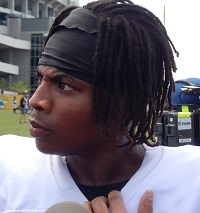 A highly-intelligent, film-guru Buccaneers legend has very little use for game film of college prospects. 
General managers across the NFL, along with the legions of amateur and professional draft analysts out there, might not like this take from Ronde Barber. But remember, Barber spends his summer and fall weeks studying game film in preparation for FOX broadcasts — after 16 seasons as a cornerback known for his work ethic in the film room.
During an interview on Westwood One with his brother Tiki, Barber acknowledged that he doesn't follow the draft much because it's too much guesswork for his liking.
"It's interesting for a guy that covers football on Sundays in me, 21 weeks if you count preseason, who just doesn't pay attention to the draft," Barber said.

"There's a reason for that. Well, I'm about to tell you why there's a reason for that. Because I watch all this coverage and I hear about what guys do in college. Tiki, when was the last time what somebody did in college translated to the NFL. Very few. There's some exceptions."

Barber went on to acknowledge that a running back's performance in college translates well to the pros, but there might not be another position. On college performance and tendencies once players arrive in the NFL, Barber said, "Nobody cares. Nobody gives a crap about that any more."
On the 2018 draft, Barber said he believes Saquon Barkley is the best player in the draft but he could fall to the Bucs at [No. 7]. Brace yourself, Barber says he's unsure the Bucs would take Barkley. "I think they're looking for defensive help more than offensive help," Barber said of Bucs officials.
The moral of the story is the draft is a huge gamble. The good general managers hit on about 60 percent of their first- and second-round picks. The guys in the 40 percent ballpark are the ones who get fired.