Kwon Wants "A Little More Dog" From Gerald McCoy
April 19th, 2018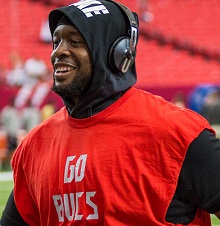 A lot of people are trying to change Gerald McCoy, including the man who calls himself the leader of the Buccaneers defense.
During a chat with media today, Pro Bowl middle linebacker Kwon Alexander explained that he wants any new draft picks to be "dogs," and if they're not, he'll turn them into dogs.
He called Lavonte David a dog, too, and said he should have been a Pro Bowler in January.
Kwon said he is taking things "holding a lot of people accountable" very personally this season, he said, and already has.
"I speak my mind regardless of what it is. And I feel like I should open my mouth more. So I've been doing that more since [the team reported back this week]. And that's what I'm going to keep doing," Kwon said.
Kwon explained that he and McCoy have been very focused on setting an accountability tone right out of the gate.
Asked about McCoy and why some fans take out their frustrations about him and are angry that he's not Warren Sapp, Kwon said they're two different people.
"Sapp's more of a trash-talker; he's going to get in your face. Gerald's just more of a guy who's going to dog you, and he ain't got to be mean.

"He gonna dog you. He might help you up because he's just Gerald, you know, he's a great person. But I feel like this year he's going to put a little more dog into it. I already talked about it. I said, 'I need you a little more dog.' He going to get to it. He's a great player as you all know. I mean, he got All-Pro, always going to [the Pro Bowl], you know. … He already a dog. He just not a talker. … He's just a different guy, man. You can't just change somebody because you want them to change."
Kwon went on to say McCoy will be have another strong year and will continue to pressure scare quarterbacks.
Well, Joe hopes Kwon focuses his be-a-dog energy on the guys who really need it, such as the cornerbacks not named Brent Grimes. However, it's interesting that Kwon seems to think McCoy is lacking in the "dog" aspect of his game. That doesn't mean Kwon doesn't respect him, but it makes you wonder.
McCoy talking more and/or being more nasty after the whistle won't do a damn thing on the field. But if Kwon is trying to force a new culture on his 32nd-ranked defense, then McCoy should play along. It might work!
Go for it, Gerald. It's a role that should be easy and a little fun. After all, McCoy has said he wants to be an actor when his career ends. Anything to fix this defense.