Jessie Bates & The Bucs
April 15th, 2018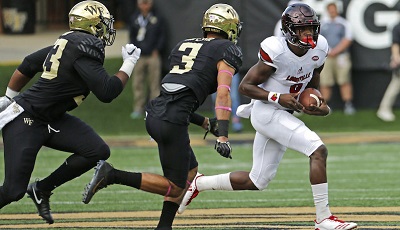 The NFL Network's year-round draft gurus are in agreement: elite athlete Jessie Bates is a sweet and likely fit for the Buccaneers in Round 2 of the NFL Draft next week.
This is a head-scratcher.
Ironically, Bates, a safety out of Wake Forest, is considered a clone of Justin Evans, Tampa Bay's second-round pick last year.
That's a mixed bag. Evans was a highly questionable tackler in college (like Bates) but was better with the Bucs. Evans proved to be an impressive Bucs ballhawk, three picks in nine starts, but he also missed the last two games of last season with an ankle injury. Overall, he showed promise but he's got plenty of learning to go.
General manager Jason Licht obviously loved Evans, hence he picked him ahead of running backs the Bucs' desperately needed. So does that make Licht likely to fall hard for Bates, too? Maybe. Ex-NFL scout Daniel Jeremiah and ex-NFL defensive back Bucky Brooks, the NFL Network draft gurus, sure think so.
Man, the Bucs are desperate for cornerback help. Would Licht really draft a safety again in Round 2? If anything, Licht has proven very challenging to predict in Rounds 1 and 2.