Jason Licht's Draft History & Grade
April 13th, 2018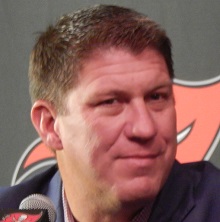 On Tuesday's Ira Kaufman Podcast, there were typical tense and passionate moments.
One focused on the appropriate grade for general manager Jason Licht's draft history.
The great Sage of Tampa Bay sports (eye-RAH!), while dishing wisdom gleaned from 40 years of NFL coverage, mentioned that Licht gets an "A-" for his Tampa draft resume.
When Ira wrapped up his take, Joe advised him that a chunk of fans just drove their cars off the road hearing Licht get an "A-." Joe said a "B" was more appropriate.
It's a great debate.
Of course, the 2016 draft is still an "incomplete," but so is 2017. Vernon Hargreaves may not be a bust, but O.J. Howard could be a bust. It's just too early to firmly label any players from those drafts still on the Bucs roster. But that does not mean intelligent and thoughtful grades are impossible to assign.
Grading a draft is very tricky. Is it about the lasting quality of the talent? Is it fair to factor in who wasn't taken in that slot, as who could have been drafted instead? Do you study the pick in a vacuum, looking at the state of the roster and team needs at the time of the pick?
There are many layers. Was former Bucs rockstar general manager Mark Dominik a genius for drafting Rams stud Mark Barron, Doug Martin and Lavonte David to open the 2012 draft, and then score linebackers Najee Goode (a starter and Super Bowl winner with the Eagles last year) and Keith Tandy?
If Austin Seferian-Jenkins, now a big-money player on the Jaguars, continues to flourish in his post-Bucs career, is that a feather in Licht's hat?
The hypotheticals are endless.
Joe does know this about Licht's draft grades. He a needs one big-impact rookie out of this year's class. If not, well, then there's a great chance Licht won't be drafting in Tampa next season. That's just life in the NFL.