Jameis Winston Investigation Answer Open To Interpretation
April 16th, 2018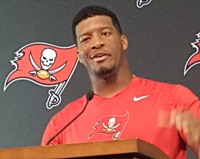 Joe understands why there are reports circulating now that claim Jameis Winston told local media today that he has not yet been interviewed by the NFL in connection with the official league investigation into his conduct during an Uber ride in 2016.
But making that leap is a very slippery slope.
Below is the actual question posed to Jameis: It ended the his news conference at One Buc Palace and he left the podium immediately after it, following a 15-minute session.
REPORTER: On the NFL process, you have not been interviewed by the NFL yet, correct?
JAMEIS WINSTON: No.
So does "no" mean Jameis was or was not interviewed? It's a gray area based on the way the question was phrased.
Also, not being interviewed (if that's what Jameis was saying) does not mean Jameis hasn't had provided written statements to the league that answered questions by email or through his agent.
Joe simply will not assume here. That would be reckless.
Joe talked to Bucs officials about the meaning of Jameis' response, and they responded with their thoughts but didn't present any answer or interpretation of Jameis' comment as a firm fact.
Hey, it's the NFL, which is known for murky investigations. Joe's not sure what to believe and won't assume anything unless it's presented clearly.