Finally, A Running Back
April 27th, 2018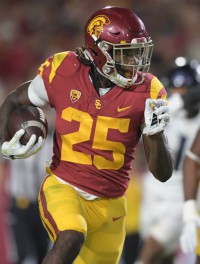 Is this the next bellcow back of the Bucs?
In their first of three picks tonight in the second round, the Bucs got USC running back Ronald Jones (full story and video on the home page). Joe has been pumped for this guy for months.
Joe is just going to directly quote an NFL general manager Joe spoke with at the NFL combine in Indianapolis when Joe asked about Jones:
"Fast. Good receiver. Not a pounder."
Now Joe hopes Bucs AC/DC-loving general manager Jason Licht goes out and signs C.J. Anderson. Then the Bucs will be set at running back.
So far the Bucs are PAC-12 heavy in this draft.
Now, can the Bucs find a way to get a defensive end, say Harold Landry?