Father Dungy Talks JPP
April 10th, 2018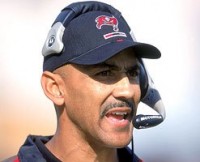 The transaction that completely transformed Buccaneers fandom is easy to pinpoint this year.
And Father Dungy seems to feel it, too.
The Hall of Fame head coach was a guest on WDAE-AM 620 recently and was asked about the trade of a third-round pick for defensive end Jason Pierre-Paul. The Bucs also favorably swapped fourth-round picks with the Giants in the deal.
Father Dungy loved the move on all fronts but thinks JPP isn't what he used to be.
"I think he still has the ability to do [pass rush]. I don't think he's the player that he was before the hand injury because, you know, something's taken away there: your ability to grab and utilize all those fingers," Dungy said. "But he's an exceptional athlete. I think he's going to be motivated to play here. He's what we need. Sometimes it's that just special moment where a perfect storm comes together and you get the qualities that you need, when it's needed, and it really blossoms. So let's see if that happens, but he definitely brings an element that we really need."
Interesting to hear Dungy say he thinks JPP will be "motivated to play here." Dungy knows how it goes with free agents and/or new veteran arrivals to any team. Sometimes they follow the Tampa paths of Michael "Ghost" Johnson, Albert Haynesworth and Chris "Swaggy" Baker.
The word on JPP is that he's an infectious competitor who grinds and grinds on every snap, playing the most defensive snaps in the NFL last year. He's also got a Super Bowl ring and formative years under Tom Coughlin.
Please, please, JPP, please don't fail.