Dez Done In Dallas; Rams, Redskins Or Saints The New Deztination? That & More On The Todd Wright Fantasy Football Podcast
April 14th, 2018
Podcast (todd-wright-fantasy-football-podcast): Play in new window | Download | Embed
Subscribe: RSS
This edition of the Todd Wright Fantasy Football Podcast focuses on the end of the Dez Bryant era with the Dallas Cowboys. Some of you drafted Dez as your WR1 the last couple seasons and apparently Jerry Jones and Jason Garrett were as disappointed with the results as you.
.
Pair that with a huge cap hit for a team with virtually no cap room and Dez is done in Big D. Todd talks about the reasons for the dip in production in Dallas and potential landing spots and what it may mean for whether you believe that Dez is still on your WR2 radar for fantasy purposes.
.
Also, the Todd Wright Tour Championship at Buckhorn Springs Golf and Country Club is coming up in two weeks. Only 1 foursome and 1 twosome remain. Enter now at
JoeBucsFan.com/golf
 and join Todd for his 14th golf event — and his first ever major championship theme at a private course most of you simply cannot play otherwise.
.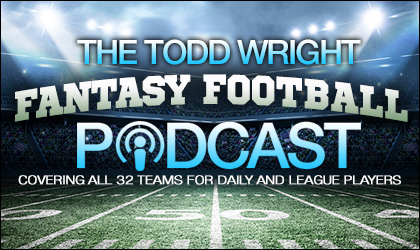 PRESENTED BY WESTCHASE GOLF CLUB