Dealing For Darby
April 4th, 2018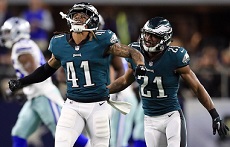 Ronald Darby is a name that makes a lot of Buccaneers fans cringe, but so are Vernon Hargreaves and Ryan Smith.
So fresh chatter out of Philadelphia is a worth a couple of minutes of attention.
Like most Super Bowl winners, the Eagles have salary cap concerns. It's a primary reason two of their contributing defensive linemen, Beau Allen and Vinny Curry, landed with the Bucs last month.
And the Eagles may not be finished making strategic moves that are much more about cash than performance.
Philly starting cornerback Darby is a strong player entering a contract year. The 24-year-old former Bills second-round pick will be paid big-time next season if he continues on his current path. The outside cornerback would be an instant upgrade outside in Tampa from Hargreaves and Smith.
There's various chatter in Philly that Darby could be part of a draft-day or post-draft trade. Philly Voice beat writer Jimmy Kempski addressed Darby's uncertain Eagles future this week. Here's a snippet:
Anyway, as for why Darby is the most likely of the Eagles' corners to be dealt, if any, it's really a matter of their contracts. You know how the Eagles didn't have a lot of money to spend this offseason, and had to make a few moves to get under the cap before the new league year began? Well, they're going to be very tight up against the cap next year, too.

The Eagles have the second-most amount of money in the NFL committed toward their 2019 cap, behind only the Jaguars, and there is about $20 million gap between Philly and the team with the third-most committed money.

Darby is in the final year of his contract, while the rest of the Eagles' corners have at least two years remaining on their deals. He is going to be very difficult for the team to afford next offseason. Rather than let Darby walk next offseason for nothing more than the possibility of a 2020 comp pick, if the Eagles can get, say, a third-round pick for him now, that would make a lot of sense.
And now for the naughty element, Darby has a habit of being with America's Quarterback, Jameis Winston, when Jameis is accused of deviant acts. (Joe doesn't feel compelled to type them up here). The two were teammates and friends at Florida State University, and it seems they've remained close.
The wiseguys might say it would be good to have Darby in Tampa, since he's saved Jameis by being a witness to Jameis' innocence and with Darby around Jameis is less likely to be in trouble. The haters might say Darby is pure trouble and a guy you want far away from your starting QB.
Those who care only about football probably see Darby as a fantastic injection into a secondary that needs a player just like him.