The "Change Of Scenery" List
April 3rd, 2018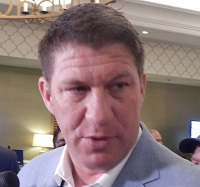 Joe had a private conversation with general manager Jason Licht about his "change of scenery" list last week in Orlando.
But then Licht referenced it publicly the next day, so Joe is comfortable typing a bit about it here.
In simple terms, Licht explained that one of his offseason strategies is to compile a list with his pro personnel department — one of many, many lists — of players ripe to be unwanted not because of their play, but simply because a new general manager and/or head coach/coordinator wants a fresh start at the position.
If you get the right combination of a coach/GM change, you can score yourself a gem without worrying much about whether the guy had the wrong attitude with his previous team.
Way up on that 2018 list, Licht said, was Jason Pierre-Paul, the new manbeast defensive end on the Bucs' defensive line. Halelujah! The Giants blew out their head coach and general manager, and their new defensive coordinator was going from a 4-3 to a 3-4, a perfect storm that can create opportunity.
The rest is history. Licht's relationship with the new but old school GM, Dave Gettleman, led to trade talks that were kept very quiet before the deal was executed a week into free agency.
There were other big names on the Buccaneers' change of scenery list.
Sorry, Joe is not at liberty to cough up a couple of names. But the bottom line is JPP was the top dog and Licht stayed painfully patient to score JPP. That deal maxed out the Bucs maneuverability for the other 2018 big names on that change of scenery list.
Man, Joe is so thankful Licht pulled off the JPP deal. It single-handedly changed the attitude of every single Bucs fan Joe knows in a huge way.