"Every Time They Lead With Their Chin, They Get Kicked In The Teeth."
April 13th, 2018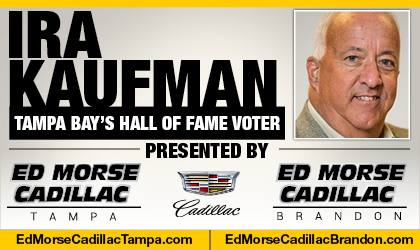 BY IRA KAUFMAN
On this Friday the 13th, it's only fitting that we discuss the horror show that has played out in Tampa for lo these many years.
Yes, I'm talking about the ghoulish record compiled by the Bucs since their inaugural 1976 season. The lost decade fans just experienced represents the second brutal stretch in franchise history, testing the resolve of even the most ardent supporter.
The Glazers have often described Buc fans as the most loyal in the league — and ownership has quite a point. Just look at what you people have been through.
Once Doug Williams departed in 1983, the Bucs were NFL doormats for the next 14 seasons until Tony Dungy and fellow Hall of Famers Warren Sapp and Derrick Brooks sparked a revival.
Tampa Bay then made the playoffs five times in six years, capped by the 2002 championship season led by Jon Gruden. The Bucs also made the postseason in 2005 and 2007 before Gruden was shown the door.
That door now leads to a dungeon.
The Bucs will enter a new season with the longest playoff drought in the NFC. The Stick Carriers, mobilized by a 9-7 mark in 2016, lay dormant, hoping for an end to all this misery.
"Ultimately, we want our fans to be happy because that means we're having success," says Joel Glazer. "That's the barometer. Fans want a winning team. We want a winning team. They want a team they can be proud of. We want a team we can be proud of. Everyone's interests are aligned."
Buc fans have absorbed more body blows than Floyd Mayweather. Every time they lead with their chin, they get kicked in the teeth.
Six Since The Super Bowl
By the numbers, this franchise hasn't given supporters much to crow about.
Since the 1970 merger, the Bucs have the worst record in pro football at 255-404-1. They are second from the bottom at home (153-176-1) and second from the bottom on the road (102-228).
In the past 15 years, Tampa Bay's fortunes under Glazer ownership have taken a sharp turn southward. From 1995-2002, Tampa Bay averaged 9 wins. Since 2003, the Bucs have averaged 6 wins.
That's not a play here or a play there. That's not a dropped pass, a missed kick or a blown official's call — that's a lot of bad football.
"I always say fans are smart," Glazer says. "Fans know when something is being done right. They know when something is wrong. It's always important to be in touch with your fans and know how they feel and see how they feel about things going on in the stadium, how they're going on with the team."
The stadium is holding up just fine. The football team?
Like our commander-in-chief likes to say, let's see what happens.
Ira Kaufman is the most revered sports personality and writer in town. He has hung his hat at JoeBucsFan.com world headquarters since July 2016. Tampa Bay's only Pro Football Hall of Fame voter, Ira busts out columns here every Monday, Wednesday and Friday, and his award winning podcasts fire Tuesdays and Thursdays. You can also hear Ira on SiriusXM Mad Dog Radio Wednesdays during football season, and see him now on Mondays at 10:30 p.m. on Spectrum Sports 360 (aka BayNews 9). Ira also is part of the FOX-13 Tailgate Sunday and enjoys beet salads, Riesling, Chiefs victories and needling Joe.