Bruising Bucs
April 29th, 2018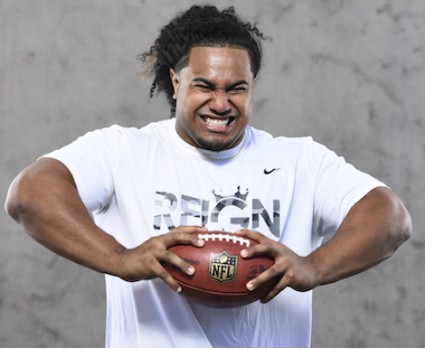 It seems there is one common denominator in the Bucs beefing up the defense this offseason, with free agents and drafted players.
What is that common denominator? That would be physicality.
Dirk Koetter hinted at that Friday. Bucs AC/DC-loving general manager Jason Licht has often discussed getting nasty in his offseason targets.
And Joe applauds this. Not because Joe wants to go all neanderthal and see players going after folks' knees and clothes-lining receivers. But to Joe, tougher guys don't get beat up that often.
Joe will never forget that debacle in Minneapolis last year when the Bucs traveled to the Northlands. The Bucs got the absolute sh!t beat out of them.
Guys were getting dragged off the field right and left. Lavonte David needed a cart to bring him into the locker room and had to be carried by medical staff into a room to get X-rayed — Joe saw it with his own eyes.
Noah Spence had his shoulder blown out again. Inside whispers say that game is when America's Quarterback, Pro Bowler Jameis Winston, first injured his right shoulder. The locker room wa a M*A*S*H unit.
Joe had never seen an NFL locker room where so many guys had the snot knocked out of them physically. Curb-stomped. It was unreal.
So hopefully this emphasis on nastiness and toughness means the Bucs won't be alley-beaten again like they were in Minneapolis that Sunday afternoon.